Say you're in an unfamiliar area and you need cash. So, you use your phone to Google "BankBrand ATMs near me." And boom! Google serves up an ATM two blocks away in a tiny drugstore that doesn't charge you an extra $5 just to withdraw $20.
"[X] Near Me" searches are on the rise. Looking at Google Trends data, the search term "near me" was barely even used before 2011. But in the past 6 years, as we've come to rely increasingly on the data that phones provide, "near me" searches are skyrocketing. Based on this search term, we expect Google to be self-centered — literally.
All 33,100 people who search for "Chinese buffet near me" each month are assuming quite a few things:
-That their phone recognizes that "me" is the user and not the postal abbreviation for Maine (NLP at work).
-That their phone can find their exact location immediately (we may say we want more privacy, but we also want more Chinese food).
-That the closest Chinese buffet has optimized their website or location for local search as well as (we assume) mobile.
-That the closest Chinese buffet website has content about how it is a "Chinese buffet" and not a more general "Chinese restaurant" or "Chinese delivery".
What "Near Me" Searches Mean
"Near Me" searches reveal a lot about our expectations — and a lot about what we expect Google to know. And if you've checked your SERP lately, they're becoming even more local. If you're searching for a retail outlet, expect to see a map on the results page. Here are some more things we expect our search engines to know, based on "near me" searches.
-"cheap gas near me": Google doesn't (yet) know the price of gas, but the top result is a mobile-optimized website that does.
-"liquor store near me now": again, you can't find open hours and location within the search results page… but there are a number of websites that can show you where to go when it's wine o'clock
-"Golden Corral near me": there's a list of locations on the Golden Corral webpage, but at the present time, you have to select the address nearest to you to get your chocolate fountain fix.
-"Predator near me": this one is a bit scary to think about the actual intent, so I prefer to think of it as something Arnold Schwarzenegger might Google if he's trapped in the jungle.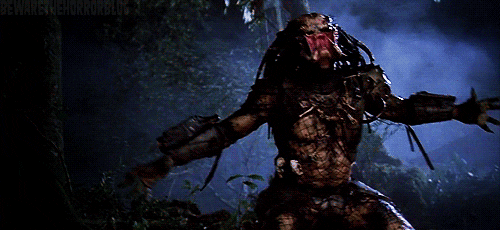 What can "Near Me" do for you
If you have a retail location, you should get the ball rolling on your local search strategy. But even if you're not brick-and-mortar, think about "near me" as the start of the self-centered search trend. It's the next step of the "best XX" search trend: "best insurance for me" or "easy child care for my kids." Personalized technology, natural language processing, and self-centered searching are well on their way; how will you get to the search choppa?