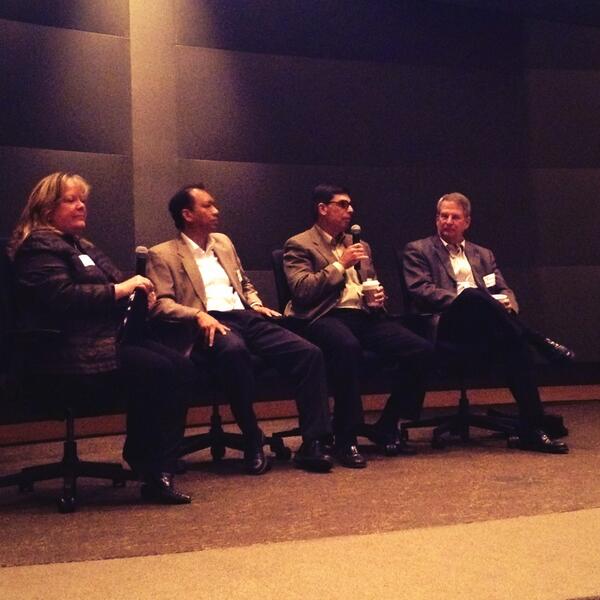 Not many people would be happy with a twelve-hour day talking about numbers, but as the Nina Hale Data Scientist, my life was made complete last Friday.
MinneAnalytics, a local professional organization, hosted the Life Science Lean-In. The conference, at Optum in Eden Prarie, centered on Big Data in healthcare and the life sciences.  As part of the conference planning committee, I worked on the team to develop the 8 topic tracks and recruit more than 59 speakers to fill more than 25 hours of time. While it was a bit tough to play people-Tetris, our efforts paid off. With more than 900 registrations and 183 wait-list spots, we knew the community was interested in what we'd assembled.
I spent the morning co-chairing the track in Personal Analytics alongside Jared Sieling, Software Engineer at Pilr Labs. As the local Quantified Self evangelist, Jared also delivered a talk about Open mHealth. Open mHealth is a nonprofit startup that aims to unify the data from open APIs, software modules, and apps in order to deliver more meaningful insights about individual health.
Paul Jones, a clinical researcher at Boston Scientific, presented data about implantable defibrillators. His talk discussed the discoveries extracted from the large datasets made available by clinical trials.
The track was grounded by the observations of Paul Saarinen, the CEO of Miinome, as he discussed the importance (and value) of personal data. His family generated a lot of data during his daughter's illnesses. While she is on the mend, Paul mentioned how it is important to remember that our data is about a person. Often, the human element can be lost when we become focused on analyses.
Our final presenter was Kai Worrell of Geneva Healthcare. His company is capturing implantable cardiac device data through a user-centered design on mobile devices. The design aims to collect data and enable doctors and patients to easily communicate about care.
Once my track was complete, I had a blast attending sessions in the afternoon. I enjoyed hearing from Dr. Farris Timimi about the use of social media in healthcare by the Mayo Clinic. Kathy Konkel of IBM delivered a presentation that drove home the importance of measuring against your business objective and goals, which is always important.
After the speaking events were done, the conference attendees enjoyed a social reception. People connected (or reconnected), talked about new ideas, and got excited about what they learned during the day. Some might say it's the most valuable part of attending a conference!
I figured that since we'd begun discussing plans for our next conference during the social hour, we had succeeded in throwing a pretty good one this time around. Stay tuned for more information about the next conference, coming in early 2014.